Why Would I Want To Live In ...RANCHO MIRAGE?



The city is home to many gated communities a large percentage of which have golf courses. Keep in mind that Golf is always an extra membership fee and is not included in your home purchase price (unless explicitly offered). That said Rancho Mirage is a tranquil oasis of many different types of properties all with the great residential resort feel that people come to the Desert for.
Commercial Development is limited and most major shopping will actually be one town over in Palm Desert. The notable exception is the corridor along Hwy 111 which is home to the super popular River complex of dining and entertainment as well as the Luxury car dealerships. Sprinkled throughout the city are beautiful resorts such as the Westin and The Omni Rancho Las Palmas Resort. Many residents forget that these great resorts have lovely dining that is open to the public as well as resort guests.

See Current Open Houses In Rancho Mirage
Search Rancho Mirage Properties By Price Range:
$100,000 to $200,000
$200,000 to $400,000
$400,000 to $500,000
$500,000 to $600,000
$600,000 to $700,000
$700,000 and Up Luxury Homes
If you are not interested in the Country Club lifestyle or Gated communities your home choices in Rancho Mirage will not be as wide as in some other Desert Cities.
Anyone who has ever been to the city before would probably be surprised to learn that Rancho Mirage was not incorporated until 1973. It seems so much more established and settled than that date would lead you to believe.

A LITTLE HISTORY: The truth is Rancho Mirage was first settled way back in the 1920's and 1930's. Fame for the area did not start until after World War II. Many of the Elite of Hollywood (Sinatra, Hope, Fred Astaire, the Marx Brothers and Ginger Rogers to name a few) began to draw the worlds attention to this beautiful spot in the California Desert. To this day many streets in the city are named after these stars. Often called the playground of the Presidents, former President Gerald Ford was a long time resident of the Desert. He and the former first lady Betty were extremely active in the Desert supporting dozens of causes/foundations that made life int eh Desert better for everyone. President Reagan often vacationed at the Annenberg Estate while in office and President Obama has continued the tradition with both personal and State visits to the valley. The Annenberg itself is becoming quite the destination with its' Sunny Lands visitors center and gardens as well as a 2016 expansion of the administrative offices.

THE WORLD: The World also knows about Mission Hills Country Club. The Dinah Shore/Kraft Lades golf tournament is televised from here every year. As a Rancho Mirage seasonal or year round resident you can get discounted tee times and golf fees at this great course. The heart of what makes Rancho Mirage special is the primarily residential nature of the City.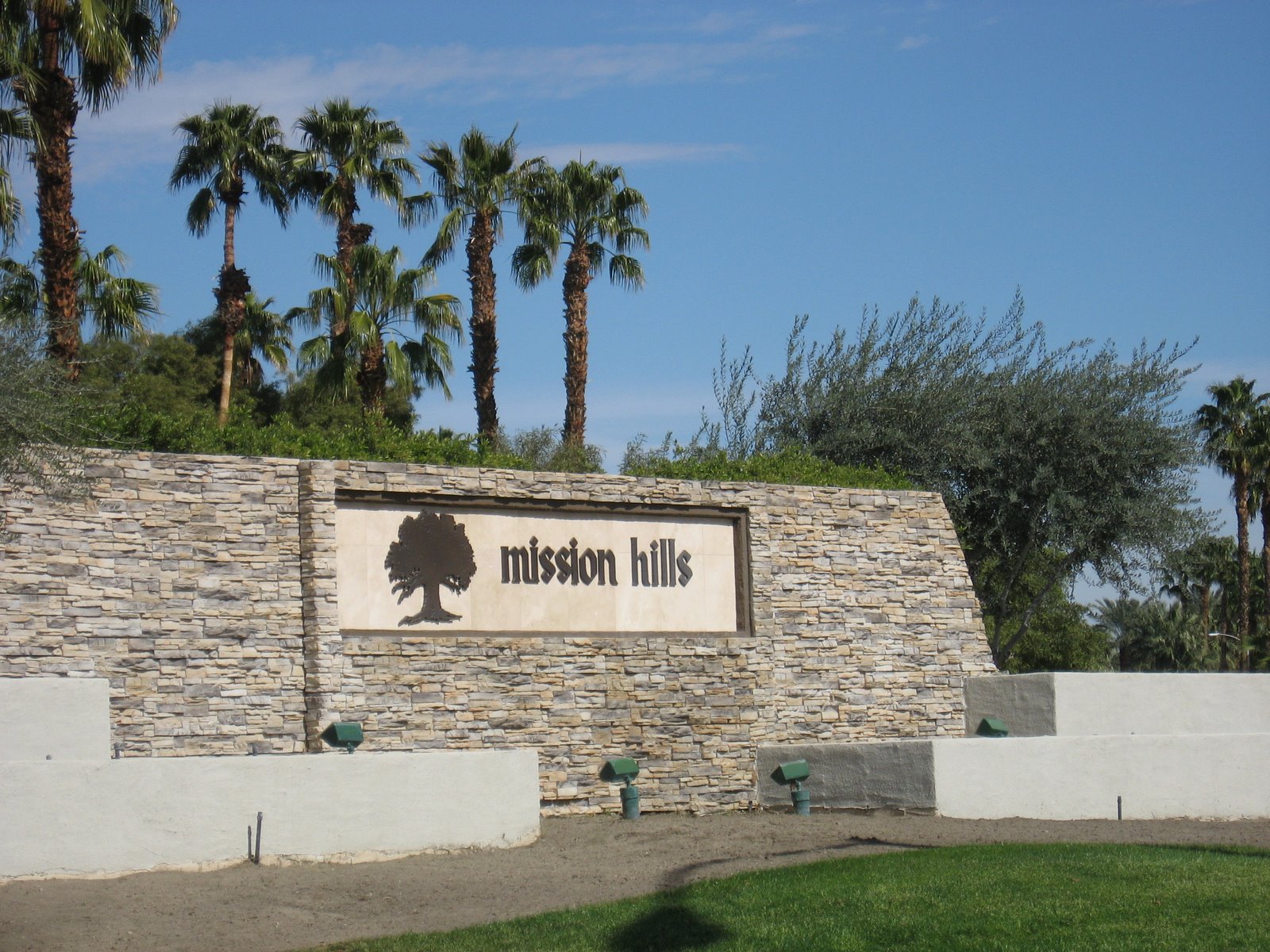 Careful planning has lead to a city filled with just the right amount of commercial, much of it architecturally interesting, many parks and trails and loads of tree lined quiet residential streets. World class golf, resorts, medical facilities and country clubs fill the rest of the area. A new public Library is an architectural treat and a great community resource offering entertainment and lecture series year round.

A great mix of homes and condos offers a choice for any taste, any need. From Gated communities offering "weekender" sized condos, large condos up to large Luxury estates there is a home that would be perfect for anyone. There are even areas that have horse property such as Clancy Lane. In addition to the many fine golf communities recent years have seen a few water front communities built. If you are interested in having water view and a mountain view you can now do so.

New in 2014 was the totally revamped Ritz Carlton Hotel – high on the hill above Frank Sinatra Drive. 2018 Saw the opening of a new Del Webb Community off of Dinah Shore Dr.

City Hall in Rancho Mirage